(Vietnam Logistics Review) Mr. Tran Van Nam- Chairman o.f the People's Committee of Binh Duong Province, leaders of the provincial Party Committee, the People's Committee of Di An, and other Departments of Binh Duong Province, leaders of APL Logistics, leaders of TBS Group, TBS Logistics and partners, customers of TBS Logistics attended the opening of Ware House 5- TBS Logistics Warehouse 5..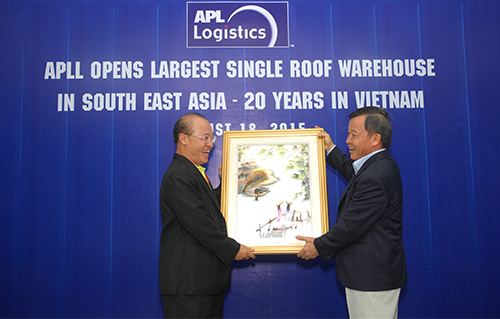 TBS Logistics is located among Binh Duong, Dong Nai, and HCMC- a convenient location with road and waterway transport advantages that actively connect the regions and deep-water seaport system belonging to Cai Mep-Thi Vai port group and help cut transport- logistics cost and increase competition abilities for import-export goods. With the desire of increasing values to customers', improving its capacity and functions for logistics sector, TBS Logistics keeps improving logistics solutions and providing competing service qualities in the market, optimizing core values in each activities in professional, flexible manners, and applying cutting-edge technology and customer services.

"This is a great advancement by TBS Group in the field of logistics. Warehouse 5, when being put in operation, will boost logistics developments and improve logistics systems for customers in Binh Duong province…," said Mr. Tran Van Nam- Chairman of People's Committee of Binh Duong Province. It can be said that TBS Logistics' Warehouse is currently the most modern one with stevedoring equipment, and services as storing management, cargo security, customs brokerage, packaging and labeling… With the desire to be logistics key center in Vietnam and strategic logistics partners for both local and international customers, TBS logistics hopes to contribute to the logistics systems of the Key Southern Economic Zone- where accounts for 80% of import-export containers nationwide.
My Duyen